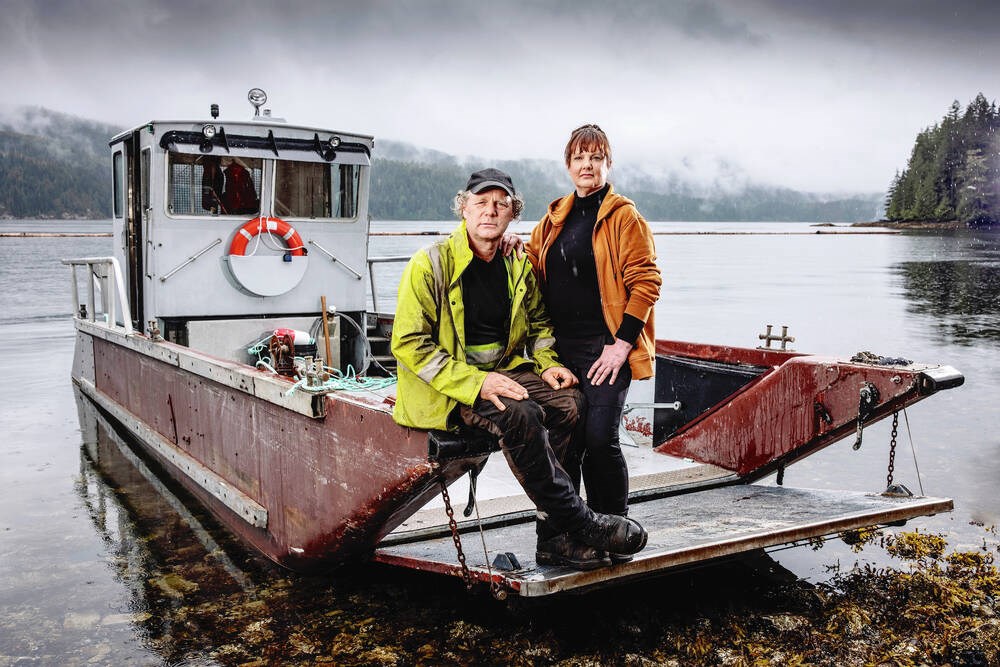 Reality series starring the Sooke family premiering Thursday night
Big Timber, an eight-episode reality TV series, follows the logging business of the Sooke-based Wenstob family.
At first glance, big wood is a reality TV series about trees — big trees. But it's also about the people who felled them and the family selling them, namely Kevin Wenstob and Sarah Fleming, who own and operate the Sooke-based logging and milling operation, Wenstob Timber Resources.
The married couple and their extended family were introduced to the public on the History Canada network two years ago, when the first season of big wood created. Much like other "professional reality" shows on the network – ice road Truckers, for example – the initial appeal to viewers was the mix of inherent danger and simple humor. Wenstob is the centrifugal force behind the family business, and his adventurous spirit as he makes his way through the high-stakes world of lumber production makes television very watchable.
"What we do is unique," Wenstob said. "The end result is a retail product, so we're going to get wood, whether it's on the beach or in the forest, to satisfy the markets we have, which is [building materials]. We have the ability to craft all of these things, and an inventory of things available.
The third season of big wood premieres tonight on History Canada, and Wenstob promises a better product than ever. The first two seasons had great stories, Wenstob said, "but they were diamonds in the rough." Now, with two years of television experience, big wood offers a smoother product on the screen. "We understand better how it works now, and we understand what it takes to get the story across, so we're able to pull that off."
The eight-hour episodes of the upcoming season flowed quite naturally. Wenstob Timber Resources is fully operational, with no end to the possibilities. The company uses tugs and barges, at various stages of the production process, and uses large-scale road construction equipment when logging. There's also the Sooke-based family sawmill, which sits on a seven-acre plot of land on Idlemore Road and constantly manufactures timber, plus a wharf at Hook Bay near Port Alberni from where huge logs are recovered.
"Everyone has an idea of ​​what's going to happen in this season, but our life doesn't work in seasons," Wenstob said. "Our life is continuous."
His main job is to keep the family business, which employs the couple's two sons, Erik and Jack, and more than a dozen others, busy with projects. When it involves harvesting West Coast cedars up to eight feet in diameter and navigating often perilous situations, it doesn't take long for something spectacular to happen. That is, there aren't a lot of meetings with the producers, regarding the pacing and story of each episode.
"The cameramen show up and ask what's going on." Essentially, that's it — that's the reunion, Wenstob said.
While jobs in Vancouver Island's forestry sector are down, Wenstob Timber Resources has yet to feel the pinch. "The money is there, the projects are there, the lumber is there," Wenstob says in an upcoming Season 3 episode, "I just gotta hit hard." Hit hard, they do, collectively. Millions of dollars are ultimately at stake, which is an almost inconceivable tally, the couple said, given their humble roots.
Both Fleming and Wenstob were born in Vancouver and moved to Vancouver Island at an early age. The two families were close ("My mom used to babysit Kevin," Fleming laughed) but their paths ultimately sent the couple in opposite directions. Wenstob spent many years in Barkley Sound on the west coast of Vancouver Island, while Fleming grew up in Gordon Head. "She's a city girl," Wenstob said with a laugh. "I wore rubber boots from nine to 25."
Fleming said she often hears stories about the Wenstob family, who scavenged for wood while fishing on the beach in the Tofino-Ucluelet area, doing whatever it took to survive. The family eventually opened a fishing lodge in Barkley Sound, and Fleming worked there as a maid each summer during nursing school. When the couple moved to Victoria, an early version of the logging and sawmilling business began, laying the foundations for big wood In the process.
"It was always so exciting and always so interesting," Fleming said of her husband's do-it-all approach. "It seemed obvious that his life and his skills would end up being filmed."
The third season of big wood premiering today on the History Canada channel.