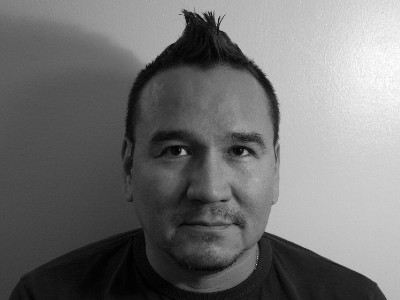 Celebrate Indigenous Heritage Month with "Savage/Future," a film screening with Terry Jones '16
The Blackstone LaunchPad, in conjunction with the Office of Multicultural Affairs' Native Student Program, will welcome Haudenosaunee filmmaker and creative entrepreneur Terry Jones '16 alumnus to screen his newest short film, "Savage/Future" and share his creativity process and journey. The event will take place from 4:15-5:30 p.m. on Wednesday, November 9 at the Peter Graham Scholarly Commons, Room 114, Bird Library, and is open to everyone.
Jones, of the Seneca Wolf Clan, is the founder of TornJersey Media and has a passion for sharing his Haudenosaunee history and culture through his film and video works, games, virtual reality projects and acting, finding a balance between entertaining and educating its audience.
He graduated from the College of Visual and Performing Arts with a BA in Film, and he is currently pursuing a Masters in Film at York University in Toronto.
The event, to celebrate Indigenous Heritage Month, is hosted and hosted by Ethan Tyo '17, G'22, who earned a bachelor's degree from the School of Information Studies and a graduate degree from Falk College of Sport and HumanDynamics. He is this year's Todd B. Rubin Blackstone LaunchPad Diversity and Inclusion Fellow at Syracuse University Libraries. This is part of an initiative to expand opportunities and engagements with student entrepreneurs and the wider university community. Tyo, of the Mohawk Wolf Clan, worked with the Native Student Program on a series of events integrating Haudenosaunee knowledge and food habits into academic programming through collaborative experiential events.
Tyo grew up on the Akwesasne Mohawk Reservation and, as a student from Syracuse, came to re-appreciate the rich and long-established cultural traditions of the Mohawk people to plan, harvest and prepare their food from the land. , he said. As an undergrad, he published his first cookbook, building on his long-standing food and lifestyle interests.
The cookbook led Tyo to re-engage with his heritage, establishing a traditional Three Sisters garden at Pete's Giving Garden and returning Onondaga seeds to ancestral land for the first time in University history. of Syracuse. The garden was the culmination of the graduate internship for her graduate degree in food. Tyo recognized an opportunity to grow food not only sustainably, but in a way that honors the traditions and culture of the Onondaga Nation, fire keepers of the Haudenosaunee, the Indigenous people on whose ancestral lands now Syracuse University. The "three sisters" – corn, beans and squash – are fundamental foods that gave birth to the strength and resilience of the Haudenosaunee people.
That led him to host this event with Jones, which will also feature traditional food and drink paired with two short films on Nov. 9: "Savage Future" and the documentary "Soup for My Brother."
Jones' films have screened around the world and won several festival awards, including "Soup for My Brother", which won Best Documentary at the 2016 Liverpool International Film Festival in the UK. In 2020, he completed the Open Immersion II – Creative Doc VR Lab, produced by the National Film Board of Canada and in partnership with the Canadian Film Center and imagineNATIVE Film + Media Arts Festival, supported by the Ford Foundation. In 2021, he was part of a game team that received the Best Concept award at imagineNATIVE's Land Jam+, a game jam designed for and by Indigenous creatives where participants from different disciplines work in collaborative teams to create video games and interactive media from scratch.
In the summer of 2022, Jones made his stage debut as an actor in Tuscarora playwright Vicki Ramirez's play "Pure Native in San Francisco." The play is produced by AlterTheater, based in San Rafael, Calif. Most recently, he served as curator and host of the Haudenosaunee Micro-Short Film Program, which screened at the Burchfield Penney Art Center in Buffalo, New York, in September. The program featured 14 micro-shorts by Haudenosaunee filmmakers.
Jones is a filmmaker, educator and storyteller who empowers future creative Indigenous entrepreneurs by leading with his values, community and culture.